Businesses seem willing to accept that whatever software package they buy will not be perfect and they expect to have to adapt their working practices to the software – but surely it should be the other way around?? This is where bespoke software comes in.
People often ask me what exactly we do at Roar and when I explain that we develop and build bespoke software, the response is almost always "Yes, but what kind of software?".  There seems to be a need to fit Roar into some sort of category, but the reality is that we take on a huge variety of projects from small, but crucial, half day tasks, to huge development projects done over many months. This month, I thought we'd take a look at some of what we do and why bespoke can be better.
CRM
I was talking to someone last week who worked for a company that had just invested a significant amount of money in an "off the shelf" CRM.  The CRM was (as most are) geared around a sales function.  Unfortunately, the people using the CRM in this instance were not sales people.  The language and the process used in the CRM were completely alien to this team and so had no real meaning for them.  This had resulted in half the team being reluctant to use the system at all (making it practically worthless) and the other half making up their own list of term translations in an effort to ensure consistency across data entry.  This company are continuing to pay licence fees for a product that is not really fit for purpose and has already alienated a large proportion of users.
In theory, changing the labels (in well written software) is not a huge task.  In reality, getting labels changed in "off the shelf" software can be a nightmare because the original developers may be quite far removed from the end users. Plus, they will now be working on their next "off the shelf" product.
Obtaining a custom CRM system doesn't have to cost a fortune.  And there are huge advantages!  The system is built to fit with your business and perform in the way you need it to so your employees will find the transition to the new system easy. Another advantage is that you own the software.  It's yours.  There are no ongoing licence fees.  The system will be easily maintainable by yourselves and if you want to expand it at some point in the future, you can go back to your original developer or appoint someone new.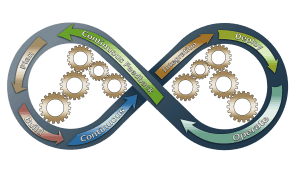 Systems Integration
Sometimes, when you buy an "off the shelf" software package, it is already designed to integrate with other stand-alone packages or systems (a payroll package integrating with a Workplace Pension Provider, for example) but often these can be restrictive, only integrating with certain providers, and functionality isn't always what you would like it to be.
We got a call a few weeks ago from a small, local firm who had purchased a piece of software on licence to integrate their website with their CRM.  This particular piece of software kept crashing, though, and then their whole system fell down and no-one could work.  They called us out of desperation (it wasn't our software) to ask if we could help as it had crashed once again.  Paul went down to take a look for them.  When Paul looked at what this particular piece of software did, it was apparent that we could build an equivalent product for the client for less than the cost of one year's licence fee.  The software we built is robust and reliable.  This particular company have not only saved money, but have improved their efficiency and reduced the stress levels of their employees as they are no longer frustrated by constant crashes.
Business Automation
Before I worked at Roar, I hold my hands up, I had no idea just how many administrative tasks could be automated.  And I probably still don't.  The example in our case studies of the automated dunning systems we created is just a small taste of what can be done.  Creating this zero-touch system reduced the number of data entry points and in doing so, reduced the risk of errors being made and communication delays to virtually nothing.  Of course, there was also a time saving as the previous system was very labour intensive.
You can automate a whole business process or workflow, or just a part of it, allowing your employees to get on with the work you actually pay them to do instead of the repetitive administrative tasks that go alongside it.
APPs
We recently developed an app that allowed users to book in to exercise classes.  Prior to the app being developed, the user would either have to contact the gym or teacher to book into the class, or just turn up on the day and hope for the best. If the class was over-subscribed or cancelled, the user would have had a wasted trip.  From the gym's perspective, the app will allow them to not only see how many people are booked in but to track the popularity of a particular class – valuable when making business decisions.  The app also provides a means of communicating with users so that if a class needs to be cancelled, a message can automatically be sent to those booked in.
Anything else?
Need a countdown clock anyone?  One of our clients did.  They needed the clock to display on a big screen and count down to the start time of an event. They now have a piece of software that enables them to do that whenever they need, or want, to.
Another request we had was for a piece of software to help with some payroll calculations.  In 2015 there were some important legal cases that resulted in employers having to include commission when calculating holiday pay.  There were several complications around how this calculation should be carried out and we were asked to write a piece of software to help with this so that it would not be a time consuming process for HR and to ensure consistency of treatment when making the calculations.
Already got a CRM that you have invested a lot of time and money in? But it doesn't do what you need it to or does it in an awkward way? Again, this is the type of thing we can help with.  It may be that we can develop a piece of software that runs alongside your CRM and just makes everything that bit easier and smoother.
So, What Exactly Do you Do?
All of the above and so much more!  I guess you could say we do the bit that is invisible to you and your employees but just makes things better.  Makes things easier. Makes tasks quicker, less 'clunky'. We are the company that can make your life easier, your business more efficient and (potentially) your employees happier.
Roar Software offer a free, no obligation business systems review for anyone ready to explore how bespoke software could help their business to grow whilst at the same time improving workplace wellbeing.